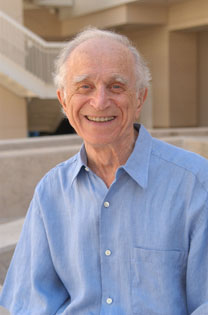 David Easton, UCI Distinguished Research Professor of political science and past president of the American Political Science Association, died Saturday morning, July 19. He was 97.
Easton joined the faculty of the School of Social Sciences in 1982. He was one of the first campus appointments as UCI Distinguished Professor. His vigor, both mental and physical, was matched only by his intellectual curiosity. One of the most prominent and cited political scientists during the second half of the twentieth century, Easton was a very highly valued colleague.
He had an unusual capacity to ask serious questions as a way of forcing others to think more clearly about what they were doing and why it mattered. Always interested in the work of his colleagues, he rarely, if ever, tried to suggest that others should follow in his research direction. This lack of pretension was especially impressive given his monumental position in political science.
Easton was a proponent of the development and application of proper scientific methods of political inquiry that would yield rigorous and reliable knowledge of social and political phenomena. At the same time, he was deeply concerned about the obligation of political scientists to engage urgent issues of public policy and to illuminate disputes about the nature and implications of political values. In his influential 1969 presidential address to the American Political Science Association, delivered during a period of rapidly escalating social and political turmoil, Easton defended with characteristic intellectual force and courage both these commitments. The address, which remains among the most important presidential addresses delivered, inaugurated an important shift in academic political science toward research that investigated critical public policy issues.
Along with his pivotal role in shaping the overall trajectory of post-World War II political science, Easton was best known for his work on the operational structure of political systems and his adaptation of systems theory to political science. These ideas were articulated in major theoretical works including The Political System (1953), A Framework for Political Analysis (1965) and A Systems Analysis of Political Life (1965). In the latter book, he also developed his conception of politics as "the authoritative allocation of values for a society." This definition has become one of the most widely used and cited definitions of politics.
His more recent work, much of it done at UC Irvine, examined structural constraints underlying political systems. He has written about the influence of political structure on various aspects of political life, on the state and development of political science, as well as on the political socialization of children.
In addition to his research, teaching and colleagueship at UC Irvine, Easton was instrumental in getting the campus more involved in the American Academy of Arts and Sciences, of which he was a past vice president, 1985-86. During his involvement with the newly created Western Center for the academy on the Irvine campus, Easton broadly turned his attention to the development of political science worldwide. He was particularly interested in the development of political science in China and helped to create exchange relationships between UCI and Beijing University as well as the Chinese Academy of Social Sciences.
Born in Canada in 1917, Easton became a teenager in the midst of the Great Depression which marked him ever after. He received his bachelor's in 1939 and master's in 1943, both from the University of Toronto where he met his wife, Sylvia Johnstone. They moved to Cambridge, Massachusetts in 1943. In 1944, he was appointed a teaching fellow at Harvard University and then earned his doctorate in 1947. Easton joined the faculty in political science at the University of Chicago in 1947 as an assistant professor and was promoted to professor in 1955. In 1969, he was appointed the Andrew McLeish Distinguished Service Professor at Chicago, a position he held until he joined the faculty at UCI. From 1971-80, Easton was also the Sir Edward Peacock Professor of political science at Queen's University in Kingston, Ontario and often divided his time between Chicago and Queens. Elected to the American Academy of Arts and Sciences in 1962, Easton received three honorary degrees during his career from McMaster University, Kalamazoo College and The Free University of Berlin.
When he "retired" from UCI in 1987, he continued to teach classes on empirical political theory, political systems analysis, the foundations of modern political science, and structural analysis of politics until he was more than 90 years of age. For nearly 25 years, Easton taught one of the seminars required of every political science graduate student at UCI. In 1997, he received the Distinguished Faculty Award for Research from UCI's Academic Senate and was named the 2005-06 recipient of the UC system-wide Constantine Panunzio Distinguished Emeriti Award in recognition of his research and scholarly activities during retirement.
Since 1997, the American Political Science Association's Organized Section on The Foundation of Political Thought has given the David Easton Award. This award is given annually for "a book that broadens the horizons of contemporary political science by engaging issues of philosophical significance in political life through any of a variety of approaches in the social sciences and humanities." In 2009, the UCI Interdisciplinary Center for the Scientific Study of Ethics and Morality established a speaker series honoring Easton and his wife's commitment to ethics. Sylvia was an avid supporter of human rights and devoted her time to the homeless, the mentally disabled, Native Americans, and victims of abuse, earning her Orange County Human Relations' Community Leader Award in 1989. She preceded her husband in death in 1990.
Easton is survived by his devoted and loving family: his son Stephen, professor of economics at Simon Frasier University, his daughter-in-law, Caroline, and his two grandchildren, Malcolm, who is completing his Ph.D. in political science at UC Davis, and Stephanie, who became his full time care giver and companion during close to the last two years of his life.
In lieu of flowers, the Easton family requests that contributions be made to the Easton Prize Fellowship in the Department of Political Science at UC Irvine.